In this post:
We are crafting the future leaders of our world, what do we need them to be able to do?
If we're not asking our students what they need, we're missing opportunities to be better.
Feedback can be scary, but it can also be incredibly valuable.
You can't put every suggestion into practice, but you can listen, learn, and use what you can to create a better experience for your students.
I speak a lot with educators about the big picture story we need to help our students see. I try to help educators see their standards through the lens of DOK (Webb's Depth Of Knowledge). I mentor teachers as they attempt to change the pacing of learning to match student needs. Yes, all  of these topics are really important, but there is something that we cannot forget as we work through all of these changes we make.
So much of what I talk and write about is how you can move your plans to a student-focused and student-centered learning experience. Honoring their prior knowledge and the pacing they need is not optional in education anymore. Helping them see the greater purpose through the story we pull them into must be done if we want to grow connected, world changing humans.
Let's take a few minutes and acknowledge that statement.
We are crafting the future leaders of our world. We are actively sculpting the generation that will have to grapple with increasing world population, the effects of climate change, diminishing resources, and ever-increasing challenges from a world bound together by complex webs of geographical, political, and economic threads.
When you seek feedback, you sometimes get burned, but you sometimes get nuggets of insight from your students that you would not otherwise have seen.
Click To Tweet
What do we need these children to become?
They better be advocates for what is right in the world. They must be able to communicate and collaborate with people who are different than themselves. They must be reflective and constantly open to growth as the world around them is growing and changing in ways we cannot possibly predict.
What we don't need? Humans who follow the rules and schedules imposed upon them and sit quietly following directions.
We need rebels. Challengers. Innovators. Boundary pushers. We need people who speak up for their needs and help craft the world around them. And we need to start building that right now in our classrooms. So, how do we do that?
[scroll down to keep reading]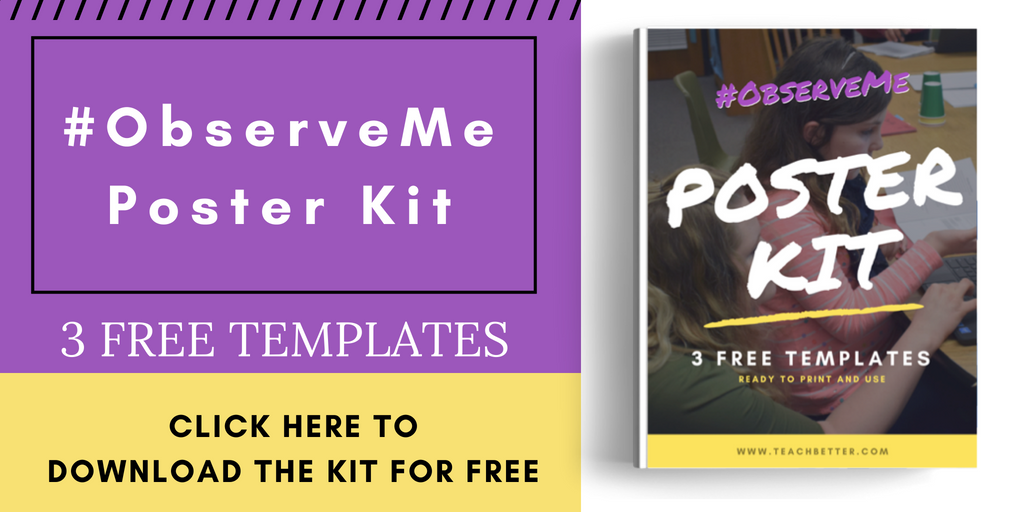 Ask.
Ask your students what they should be learning and how. Ask them to help craft the learning experiences they have. Trust them to think deeply about the challenges of modern education and help you design the kind of learning they need. These kids are not naive. They know that the world is different for then it was for us. They know that there exists a push and pull between regulations, standards, testing, protocols and innovation, individualization, meaning, and purpose.
As we strive to do our best at reaching all of our learners, connecting individually with each student, and designing dynamic lesson plans to ensure students meet mastery on content – we often forget to stop, listen, and ask questions to the most important people in your classroom, your students.
So, why don't we do this?
The truth is, most of us are scared. Scared of what we may find out if we stopped to ask our students how our instruction is going. Many feel this question to a student welcomes criticism. And it might. They may tell us they hate how we teach. They might tell us that class is boring and useless to them. As they pour their hearts out to us about everything wrong with what we are doing, we have one, and only one, job…
Listen.
Listen to your students' ideas. Listen to your students' struggles. Listen to your students' explanations. Listen to your students.
I have to admit, I am confused. I am baffled. I am incredulous.
In every district I have taught in- 5 and counting- most teachers have a predictable, and frightening, reaction to the concept of student surveys and student evaluation. In one, teachers raged with fire and fury at the concept of seeking student feedback mid-year rather than in the traditional May survey window. Frightened about the impact of these student feedback surveys on their own evaluation and, potentially, the impact these surveys might have on their careers, they responded with a whole slew of reasons why it was a terrible idea:
"Students don't know enough to provide valuable feedback on quality teaching."
"What if they rate me lower because they don't like science (or math, or history, or …)?"
"Students aren't reliable."
"I don't trust administration to not use this against me."
"I am the expert in education, not my students."
Yes. Every one of those sentences passed the lips of my colleagues. Is it any surprise that so many students don't trust us to have their best interest and their happiness in mind? Is it any wonder that there is an underlying current of frustration, disinterest, and disillusionment in the complex connection between student and teacher?
We need to get over it. Some of our students will reply to these surveys or requests for feedback with rage. Here are some recent responses to a survey I gave my students- actively seeking their feedback so that I could improve,
What do you wish was different about this course?
"i wish that we learned stuff that was actually relevant to life because i'm not going to graph an inequality in the middle of the summer while i'm swimming."
(Ouch- math teacher pain right here)
What do you want to stay the same about this course?
"nothing. i dread coming to this class and i don't think that's gonna change"
But along with this negativity and distrust, came the following responses:
"I wish we did activities outside of class as a class to create a stronger bond with the class as a whole."
"I wish that we didn't get as much homework and I also don't like the videos we have to watch."
Moving past hurt feelings, on to something transformative.
When you seek feedback, you sometimes get burned, but you sometimes get nuggets of insight from your students that you would not otherwise have seen. My students wanted relevance, purpose in what they did, and a greater sense of community. They also didn't want to learn about inequalities, but since it was a freshman math class, that really wasn't an option. BUT, could I find some way to make those inequalities matter more to students? I wasn't sure how, but you better believe I took that feedback and made adjustments to the course.
Not everything your students ask of you will be doable, and it's ok to take each suggestion or critique with a grain of salt. Nevertheless, the relationships you build with your students, the respect you build with your students, and the reflection you have with your students, are invaluable to truly ensure you reach as many students as possible. And if we're going to create future leaders of a better world, those voices are an important piece of our journey to creating more opportunities to give them what they need. 
---
About Tiffany Ott
Tiffany Ott is the Director of Curriculum Development with the Teach Better Team and a high school math teacher in Ohio. Tiffany is also the founder of #MasteryChat and a educational technology fanatic.
As ten year veteran classroom teacher, she discovered a passion for meaningful technology integration. Now, she combines her love of great ed tech with a mastery learning approach to teaching and learning, transforming her class, her teaching, and her students' learning, sharing her strategies with educators around the country.

Header image photo by Garidy Sanders on Unsplash.