TL;DR:
Crafting a clear message is key when communicating with stakeholders.

Be inclusive with your message and consider families of all backgrounds.

Post your message on multiple platforms to ensure it is being received.

Host live sessions to engage with stakeholders and be available to answer questions.
You may have started the year in remote learning, in-person learning, in a hybrid model, or maybe something else altogether. As we communicate our plans with our stakeholders, it is critical that we send a clear message and communicate in multiple ways. 
"No one will ever tell your story as well as you do" is a mantra many school leaders have adopted. School leaders need to communicate to families and stakeholders for a variety of purposes including instruction, safety, logistical information, promotion and marketing of events, causes and impact of politics, and to build their professional learning network.
Further, school leaders must look at how to be inclusive in their message, be aware of the destination of their message, and be available to answer questions. 
'No one will ever tell your story as well as you do' is a mantra many school leaders have adopted. School leaders need to communicate to families and stakeholders for a variety of purposes.
Click To Tweet
Boosting the Standard Newsletter
This is the norm: An email is sent through the school or district to students, parents, and teachers. This may come from the Superintendent, Principal, or Communication Director. 
Make sure that your language is clear and concise. It's important to ensure that any links used work.  Further, posting to your website in a static PDF does not allow for translation to multiple languages.
As we work to be more inclusive in our schools, it is important we communicate in multiple languages. If you do not have the staff to do so, then post directions to families on how to switch languages on your website with these simple steps:
Open System preferences and go to Language and Region.

Click the + button under the left pane and add the language of your choice. 

Now open Google Chrome and you'll see that the UI has changed to the language of your choice.
The Destination of the Message Matters
Congratulations on crafting a well thought out message, but who read it? School leaders need to be aware that just because we sent a message through a server, does not mean the consumer read it.  We need to send or post the newsletter to multiple places.
How school leaders communicate, when they communicate, and what is communicated about has changed since the rise of K-12 social media use. With the influx of social media, the convenience and speed in which conversations or posts may occur are staggering.
Social media is part of many parents' daily routine. 74% of Facebook users and 24% of Twitter users visit these sites at least once a day (Pew Research, 2019). School leaders should post their message to Facebook, Twitter, and Instagram. 
[scroll down to keep reading]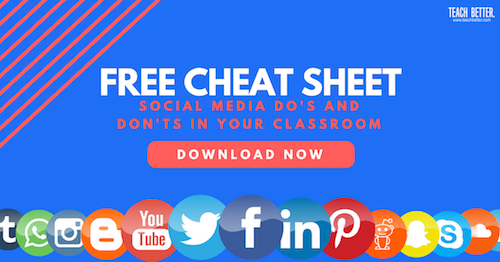 Be Available for Questions – Go Live
It is important for school leaders to be available to answer questions for stakeholders. School leaders can create frequently asked questions documents, answer emails and phone calls, and should engage on social media.
School leaders should "go live" with their stakeholder groups in a consistent way one to two times a month to allow groups to ask questions and engage. Programs that can help support this goal include Facebook Live, BeLive, or Streamyard.
---
About Bryan Zwemke
Dr. Bryan Zwemke is a High School Principal in Illinois. He is an active member of multiple educational organizations, including being a guest blogger for the Teach Better Team, sharing his insight on supporting the entire ecosystem that exists in every school building. Bryan completed his qualitative research on building a school system's social capital through social media. Through his work in this area, Bryan continues to partner with districts to show schools the power of sharing their story through a strategic framework and empowering staff and students to share their voice.