TL;DR:
Cinco de Mayo is a time to pause, learn, and reflect on why so many celebrate this holiday.

Discuss with students the differences between appreciating and appropriating the holidays and special days from other cultures.

It is imperative that we continue to be reflective and grow forward.
On May 5th, many folks celebrate Cinco de Mayo. How wonderful! I'd invite all of us (myself included) to pause, learn, and reflect.
A few years ago, my third graders took note of Party City commercials that they saw on TV. The commercials advertised "Cinco de Mayo supplies." They laughed after pointing out what they noted. They also shared that it was so nice of Party City to acknowledge the holiday. As 8 and 9-year-olds (100% of whom were Latinx), they genuinely asked me (a white educator) why white people love Cinco de Mayo so much. I provided a few best guesses (since I of course cannot speak for all white people), including that many people enjoy celebrating others' cultures, but we decided to dig a little deeper. The inquiry process took over.
We talked about the differences between appreciating and appropriating the holidays and special days from other cultures, and how it takes active reflection to identify those differences.
Click To Tweet
I needed to explore this myself as a white educator serving linguistically diverse students.
I found this great article that helped guide me from Learning for Justice, written by Lauryn Mascareña.  As a class, we did some learning. We learned what Cinco de Mayo actually celebrated (no, it's not anyone's independence day!). For more info on the holiday and what it celebrates, click here.
Then, we created a T-Chart of What It Is/What It Isn't of the day. We grappled with other word choices like appropriate vs. inappropriate or correct vs. incorrect. We talked about how many folks are misinformed, misguided, or were never taught about this to begin with. But we also mentioned how there are other people who may know this but still don't care to learn from it. We acknowledged that there are many people who are willfully ignorant. There truly is a full spectrum of folks out there! 
We asked folks in our families, our neighborhoods, and in our other classrooms what they knew or thought about Cinco de Mayo, and we added those to our charts.
How many were misinformed or misguided? How many really understood the holiday? We noted that many family members who were originally from Mexico did not celebrate this holiday while they lived there. (None of the families I served that school year was from the town of Puebla.) We also noted that there were several who celebrated now that they lived in the US. And we talked about why this is. The students agreed that it could help them feel more connected to the country of their families. We discussed the power and importance of feeling connected to our rich cultures!
We read a few pieces that were both informational and narrative in nature.
With this, we looked at articles, picture books, blog posts, social media posts, and advertisements. And we checked to see who was creating these pieces: who was sharing their voice? Whose voices were not present?
We searched the hashtag #CincoDeMayo on social media. (Full Disclosure:  I pulled images in advance. I teach third grade and I noted that people posted a lot of inappropriate content.) We discussed each image and then sorted them into our T-Charts. Was each post based on an assumption, misrepresentation, or a fact?
We considered: Who posted it? What was the poster's purpose? Bonus: This ended up being a fun deeper dive of author's purpose in our reading unit! We posted our final product on our classroom Instagram account that the students managed so that we could share our learning with the world. 
Engaging in this activity made us do some reflection on how we celebrated other holidays.
Were we making assumptions about other cultures based on one specific day? We made a commitment to be more informed.
We talked about the differences between appreciating and appropriating the holidays and special days from other cultures. And we talked about how it takes active reflection to identify those differences.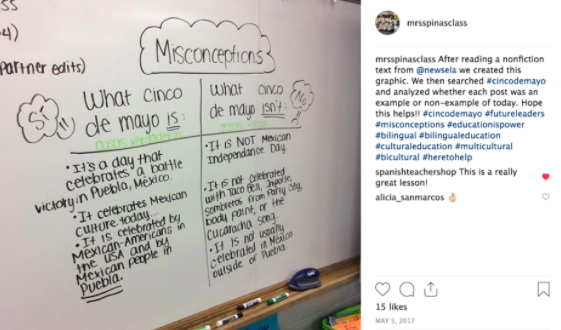 Here are some of the ways that third graders identified appropriation: when non-Mexican people don oversized sombreros, put mustaches on babies, or hang up cutouts of peppers all over the walls. There were also a lot of people who posted "Cinco de Drinko" days on their social media accounts.
We acknowledged that adults sometimes enjoy adult beverages, but changing the name of the day to make it rhyme while intentionally exploiting the language (adding -o to the word "Drink") to accompany their photo of a margarita didn't feel like an appropriate way to celebrate the day itself. 
[scroll down to keep reading]

As educators, we are constantly seeking ways to learn more and grow in our own cultural competencies.
It is okay to make mistakes! It is imperative that we continue to be reflective and grow forward. It's a powerful learning moment when we are able to say "I used to ______, but now I know to ______." I know that personally, I don't always get it right! It is good and healthy to admit when you are wrong and to take your learning with you as you grow.
---
About Carly Spina
Carly Spina has 15 years of experience in Multilingual Education, including her service as an EL teacher, a third-grade bilingual classroom teacher, and a district-wide EL/Bilingual/Dual Language Instructional Coach. She is currently serving 8 schools (EC-8) in a linguistically rich community of over 60 languages and over 800 active EL students. Spina has engaged in the successful co-creation of several parent outreach programs, Title I tutoring programs for students in grades 3-5, mentoring programs for middle school students, co-teaching initiatives, and more. She is deeply passionate about equity and advocacy for multilingual learners and fights for access and inclusive opportunities for kids and families.
Spina actively fights against food insecurity in the community she serves. She has spoken at various national conferences and events and has received several awards over the years, including the Illinois Education Association Reg Weaver Human & Civil Rights Award in 2015 and the Distinguished Service Award for Excellence in the Team Category for EL Community Engagement in 2019. She was the WIDA Featured Educator in April 2019 and was named a Paul Harris Fellow in July of 2019. Spina is an active member of the EL/Bilingual community on social media and enjoys networking and growing with teachers and leaders across the country. She is currently working on her first book with EduMatch Publishing.