TL;DR:
This post shares how LinkedIn can be used for thought leadership and long-term collaboration.
Tips on how to foster connection: create regular content, batch posts, choose one favorite social media platform, seek strategic connections, and have manageable follow up.
LinkedIn for Leadership and Collaboration
About four years ago, I gave up on social media. I deactivated my Facebook, I rarely checked Twitter, and I hadn't even created an Instagram account yet. The benefits of the education-related articles shared on Twitter did not outweigh the feeling that I was missing out on life beyond my phone.
Then, I started my coaching business. I realized I needed to promote my blog content, get the word out about my professional development services, and make connections to expand my business! I also discovered entrepreneurship can be a lonely venture, made better by connecting and collaborating with other edupreneurs. 
Today, I'm on multiple platforms, I post 5 times a week on each platform, and I have made several long-term connections that have led to fun collaborations with fellow consultants and paid clients. The best part is I'm not on my phone all the time. Here's what I've been doing to foster connection, learn more about my profession, and position myself as a thought leader without spending too much time on my phone.  
You can start your commitment to expanding your network now. Challenge: seek out 10 innovative educators you dream of collaborating with. Click To Tweet  
Create content regularly.
One of the main reasons I post is to share my content. This provides free value for educators and it also helps me be seen as a thought leader (even if most posts only get a few likes, and one of them is from my mom).
I use my website as a place to publish original content, and then I share excerpted quotes from the blog posts on social media with a link back to my site for the full piece. You can also use a social media platform like LinkedIn to post blogs or Facebook Live to share video content and then share that link on other platforms.
Each month, I set aside time to create the content for each week. Once I have this, it's easier to pull 5 excerpts from one blog post to share on social media. If you need ideas for new content, scroll through some blogs you like in order to see what trends are popping up this month. (If you need a place to start, check out more articles on the Teach Better Blog or my blog and podcast, Time for Teachership.) You can also look for trends in social media posts—are there specific questions or concerns to which you could respond?   
Batch your posts.
Just like you can batch create content, you can batch create posts. Set aside time once a month to generate a post for each weekday (or however often you want to post). If you want to auto-schedule these posts, you can use a tool like Later or MeetEdgar. If you want to manually post when you have time, you can use a Google Sheet to stay organized with simple rows like the date/time, quote, and link if applicable.
I also use a Google Sheet to organize other thought leaders' content I want to share. This might be quotes, articles, podcasts, or other resources. As I come across these, I simply add the link to the Sheet, and I can return to write the caption later during my designated batching time.
Pro tip: When sharing resources someone else created, tagging the author or organization will let them know you're out there loving their content and will often result in a lot more eyes on your post. 
Pick a favorite platform.
Trying to keep up with 5 social media platforms was too much for me. I batch time once a week or so to check for any comments so I can respond, but mostly I just use auto-scheduling to have a presence in those places. The bulk of my connection-building time is spent on one platform: LinkedIn. Having a go-to platform ensures I don't spend all day on social media, and it makes connecting with new people much easier.
If I meet someone at a conference, I always request a connection on LinkedIn. This may lead to following one another on other platforms later, but LinkedIn is my first stop. Decision-fatigue is real, and having one less decision I have to make is super helpful.  
Seek strategic connections.
Another reason I love LinkedIn is the platform's potential to connect me with people who are interested in the same things I am—learning, education, justice. Each platform has its niche of people, and LinkedIn's niche seems to be thought leaders, people who love talking about their work, and committed learners who won't think twice about reading a lengthy article.
My favorite strategy I learned this year is using the search bar to type in the job title of the people with whom you want to connect. For me, because my work is in justice-centered curriculum design, that's typically Directors of Curriculum and Diversity, Equity, and Inclusion. I have a template for an introductory (300 character) message when I request a connection, and I use that to connect with about 10-15 people from the search results each week. 
[scroll down to keep reading]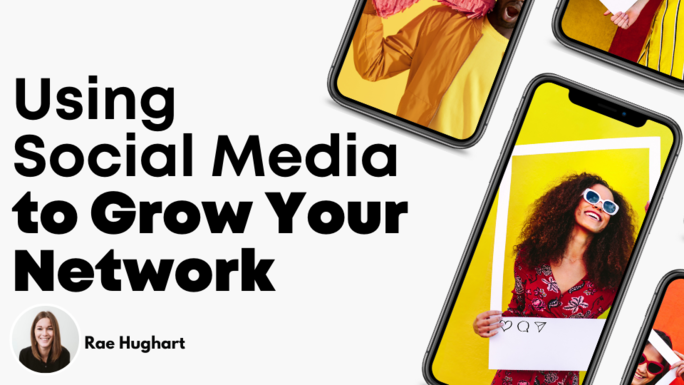 Follow up in a way that is manageable.
If you have hundreds of connections, it may be difficult to regularly follow up with each of your connections, particularly if you are continuing to add more each week. You can use the algorithm to see who shows up in your feed and comment on their posts.
However, I find it meaningful to create a list (maybe just 10-15 people) and dedicate time each week to reading what they have posted, adding thoughtful comments to those posts, and even direct messaging them to share new content related to their posts. Or you can invite them to hop on a 20-minute video call to chat more about the challenges they are facing or the initiatives they are working on. This is how most of my creative collaborations have started.  
Expand your network now.
You can start your commitment to expanding your network now. As a small first step, connect with me on LinkedIn (or your favorite platform). Then, schedule time in your calendar this month to create some new content and batch your posts. Finally (the big challenge), seek out 10 innovative educators you dream of collaborating with, send them some free content, and follow up with an invite to meet on Zoom. There is so much creative potential waiting for you. Here's to all that you will accomplish this year in collaboration with others!      
---
About Lindsay Lyons
Lindsay Lyons is an educational consultant who works with teachers and school leaders to inspire educational innovation for racial and gender justice, design curricula grounded in student voice, and build capacity for shared leadership. Lindsay taught in NYC public schools, holds a PhD in Leadership and Change, and is the founder of the educational blog and podcast, Time for Teachership.