TL;DR:
Teaching involves standards, a curriculum, instruction, and assessment.
Students and teachers co-create the learning experience together.
As teachers, what do we do beyond teaching?
How can you impact greater change?
Teaching Versus Teachering: Extra Duties of Teachers
Not too long ago, I was listening to one of my favourite podcasts, The Chey and Pav Show. This show features Chey Cheney and Pav Wander, who say that they are just two teachers talking teaching. During this particular episode, Chey had a brief verbal mix-up in which he said that they were "just two teachers talking teachering." He quickly corrected himself. But as so often happens, I have been thinking about what this non-word could actually mean. I feel fairly confident in saying that the majority of people who go into the field of education do so because they have a passion for teaching. Without going too deep into the weeds on this, I have been considering what is actually involved in teaching, not as a profession, but simply as the action.
I tend to think of teaching as having five key components, as illustrated by this image:
Standards describe what we want students to know or do along the journey of learning. The curriculum is the path the teacher constructs to guide students along the journey. Instruction is the vehicle that propels the journey. Assessment is how teachers and students know if the standards are being met or not. Teachers and students are co-drivers of the vehicle in the progressive and innovative 21st Century approach.
The act of teaching focuses on these four components of standards, curriculum, instruction, and assessment.
It is done formally through public or private institutes of learning, informally through casual conversations, or through any number of combinations and permutations. The important part, for the purposes of this discussion, is that the act of teaching can be a simple process of identifying what is to be learned and guiding that learning until the goal is reached.
"Teachering," on the other hand, is all of the other stuff that formal educators are called upon to do.
The reason for all of this stuff is simply the result of having professional duties that go beyond "just teaching." What does this entail? Quite a bit, to be honest. Here is a representative sampling:
When I am asked to take on another duty, I respond by saying, Yes, I can do X, but it will take away time from my ability to do Y. Is there one that you would like me to devote more time to?
Click To Tweet
Meetings.
Oh, the meetings. Staff meetings are led by the principal or other leaders in the building. Department meetings. Team meetings. Building committees. District committees. Union meetings. IEP or 504 meetings. Parent meetings. Student meetings. Discipline meetings. There are so many. There's a reason that someone was able to write an incredibly relatable parody of Dr. Seuss's "Oh, The Places You'll Go" called Oh, The Meetings You'll Go To! And even though this book is not specifically about education, educators at all levels will be able to see themselves within these pages.
IEPS and 504 Plans.
If you work in public education, the expectation is that you'll teach all students who come into your classroom, no matter what their present levels of academic and functional performance (PLAAFP) are. Through the Education for Handicapped Children Act (EHA) of 1975, renamed the Individuals with Disabilities Education Act (IDEA) in 1990, public schools are required to create Individualized Education Plans (IEPs) for students with identifiable disabilities that impede their ability to learn and demonstrate mastery without a combination of modifications and accommodations in the classroom.
Related to this is Section 504 of the Rehabilitation Act of 1973, which specifically prohibits discrimination against individuals with disabilities. A 504 Plan specifies the accommodations that must be made for a student with a disability such that their civil right to education is not infringed. Being involved in implementing, monitoring, reviewing, and updating a student's IEP or 504 Plan takes a vast amount of energy and time. And it requires a considerable amount of data.
Data.
Oh, yes. Data. Data, data, everywhere. There are some who have declared "data" to be the newest four-letter word that should not be spoken aloud in polite company. Attendance, participation, homework completion, practice work, exit tickets, progress monitoring, behaviour tracking, formative assessments, summative assessments, norm-referenced and criterion-referenced exams, end-of-year tests, standardised benchmarking, high-stakes tests, parent engagement, professional development hours. As professionals, we are expected to not "just" teach our students, but also provide evidence of student learning in the form of data. It can be overwhelming at times, especially when it seems like we are collecting the exact same data in different ways for no perceivable reasons.
Professional Learning.
Sometimes called Professional Development, Pro D, PD, Continuing Education, or any number of other terms. Professional educators are expected to keep learning within their field of expertise. This might be done through mandated building or district book studies or inquiry groups. It definitely includes the often laughed-about but very important and very essential bloodborne pathogens training and other health and safety training modules.
District institute days. School improvement days. Professional conferences. EdCamps. Self-paced online modules. Graduate school or advanced certificates. In my role as the Professional Learning Coordinator in my public EC-12 district in Illinois, I have been tasked with moving away from the one-size-fits-none model to a differentiated and progressive approach that honours where teachers are at and where they are going.
Other Duties as Assigned.
This is probably the biggest one because it literally encompasses everything not enumerated in a job description. Supervision of students before school, in the hallways, during lunch, during recess, after school. Detentions. Covering a class for someone who is absent because we are experiencing a massive shortage of substitute teachers.
Letting a student from another class take a break in your classroom. Co-teaching. Co-planning. Mentoring. Coaching. Extracurriculars. Some of these duties have stipends associated with them. Some do not. They always add more to a teacher's plate. When I am asked to take on another duty, I have found it helpful to deploy an X-Y approach. I respond by saying, "Yes, I can do X, but it will take away time from my ability to do Y. Is there one that you would like me to devote more time to?"
I am sure that there are many other things that can be added to the list of professional duties that teachers are expected to do beyond simply "teaching." As I observe the discussion of the "Great Resignation" on social media and in other places, I find my mind keeps going back to this. Teachers aren't quitting because they don't want to teach. They are quitting because the responsibilities of "teachering" go beyond what they expected.
So what can be done about this?
The first step is to have a very frank and open discussion with those currently in the field about what their job duties entail. Make a list of everything we are doing every day. Then go through this list and highlight the things that are definitely making a positive impact on the students and the adults in the field. Make note of the things that are not making a positive impact and discuss who can change those things. If they are mandated at the upper governmental levels, are there individuals who can advocate for change? Teachers' unions? Professional organisations? Letter-writing campaigns?
If they are things that can be addressed at the local level, then make it clear to your local leaders what you would like changed and why. There are likely things on the list that nobody can say for certain are helping or hurting. Decide a timeframe for collecting data and, at the end of that period, see if the data has revealed anything. If it is not helping or hurting, it is likely that it can be eliminated and nobody will notice or care that it is no longer being done.
The second step is to change teacher preparation programs so that early career educators understand that they are entering a profession that expects more of them than just teaching. Be clear about the professional duties expected of teachers. Administrators can make an effort to make sure new teachers are not asked to do too much at once while also making sure their veteran teachers are not being asked to hoist the school upon their shoulders as if they are Atlas of Greek mythology. Identify the strengths and interests of everyone in the building and use those to the advantage of all.
[scroll down to keep reading]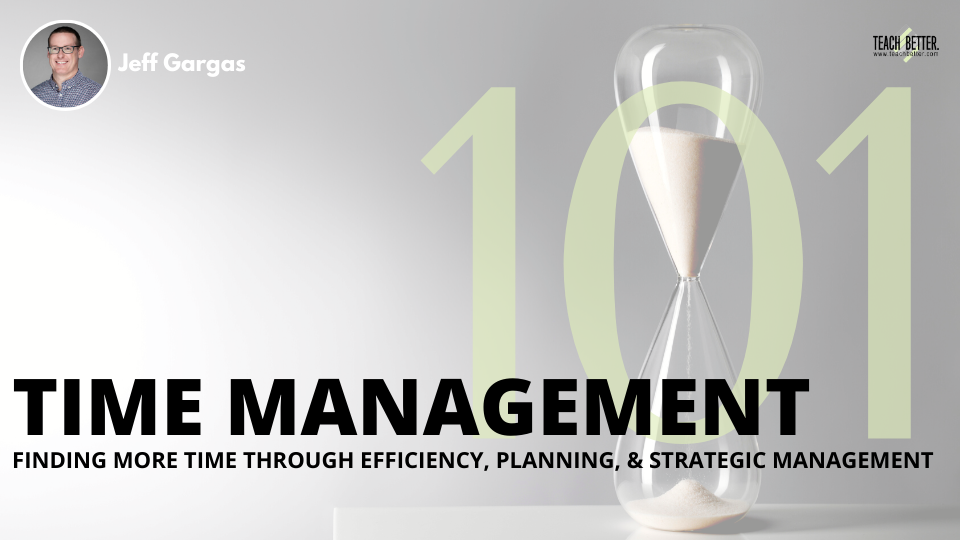 We are living through very difficult times.
An ongoing global pandemic revealed weaknesses in a system that has been in need of a major paradigm shift for decades, if not longer. Fewer and fewer people are entering teacher preparation and administration certification programs while more and more people are approaching retirement. Many districts are unable to pay a competitive wage for substitute teachers. Therefore, there are not enough substitutes to meet the demands caused, in large part, by the pandemic that has teachers or their family members quarantining for weeks at a time. Nerves are frayed. Stress is high. And just about everyone is sick of hearing about "teacher self-care" as if taking a bubble bath will eliminate the challenges we are living through.
But we can and we will get through this. A year ago I selected together as my One Word for 2021. I still believe in this. We are better together and we are stronger together. Let's start, one step and one day at a time.
---
About Alex T. Valencic
Alex Valencic is an educator, former small business owner, Boy Scout, volunteer drug prevention specialist, unrepentant bibliophile, and a geek of all things. He worked as a substitute teacher for three years before achieving his lifelong dream of teaching fourth grade, which he did for seven years in Urbana, Illinois, before accepting his current position as the Curriculum Coordinator for 21st Century Teaching and Learning in Freeport, Illinois, where he not only supports innovative educational practices in the classroom but also oversees social studies, science, and nearly all of the elective courses in the district.