TL;DR:
The value in understanding other roles in education.
The typical day of a special education teacher.
One of the greatest mysteries in education is what special educators do on a daily basis. Most educators know we are incredibly busy, running around, and wear a lot of different hats. Yes that is true, however, there is a whole lot more.
Unfortunately, we can come under unnecessary scrutiny if a student who is on an IEP is struggling in Biology class, or one is misbehaving in Algebra I.
The regular educator will furiously type, "What can I do to help this student?" or simply type, "Help me!"
However, a school CANNOT survive without an effective special education instructor. Our department takes enormous pride in the fantastic work we do everyday. The purpose of this piece is to let you into the daily life of a special education instructor.
Some Background
If you're familiar with me at all, I have spoken at length about how special education found me. When I was in college I was going to teach high school history and be a head varsity baseball coach. Life always throws curveballs, and I was not able to secure a history position.
I took a position as a special education paraprofessional a week before school started. My duties were to service the students in the classroom, co-teach, serve as a 1 on 1 for a student, and act as a varsity assistant baseball coach.
As time passed, I realized I really enjoyed special education. I was good at it, I connected with my students, and I had great relationships with the staff. Almost two years later, I secured a special education instructor position and everything took off.
Outside of administration, I cannot imagine teaching in a different department. The fulfillment I get seeing my students grow as people and learners is tremendously rewarding. The rigor of having students on my caseload, being in charge of their IEPs, communication, and teaching them in class is a blast. 
When constructing this post on the average day of a SpEd teacher, I took the most hectic day and the lightest day, and blended the two together. You will always have the same things happen no matter the rigor of the day. At Smithville High School we use 90 minute block scheduling. We have four periods with a prep period mixed in. I hope this gives an idea of what a sped teacher encounters on a daily basis.
Communication, patience, teamwork, compassion, and gratitude will make us better educators.
Click To Tweet
Before School
I arrive 45 minutes before school and receive a nice present of having 13 emails this morning. This total is lower than usual.
I receive anything from advertisements, PD opportunities, or parents who seek constant correspondence. It is a mix of all three, plus an Instructional Assistant (IA) asking if she can read a test in my room during my prep period. Of course my answer is yes.
Next is responding to parents emails and reading the weekly newsletter that our administrator posts. Making lists is helpful for me, and I examine what I have to do today as far as IEPs, tracking, lesson planning, etc.
I create the World History warm up, post the lesson, and discuss with my co-teacher on any last modifications we need to do. Now, it's go time.
1st Block World History
Standing at the front door, I greet all students that cross my path. Class has begun. My co-teacher and I have great chemistry with our baseball background, and mutual interests, which helps our rapport in the classroom. 
I have a few students for which I must provide their notes, as it is stated in their IEP. The class is very high achieving, and we can challenge this group. I have one student who can be very loud, so my focus shifts to him frequently. Self harm is one of his coping strategies, and we are teaching him alternative strategies. Taking on challenges is not his favorite, so I monitor and work with him often.
2nd Block Study Skills
This class has most of the students who are on my caseload. In this class, they have time to get their classwork completed.
We also prepare for assessments, driver's ed, and offer resume and cover letter assistance.
I have 10 students, and their job is to complete their online agenda. They repeat to me what they need to complete. I put any upcoming tests, projects, and assignments on the back white board.
We also go over our weekly affirmation and model how this looks. It takes me about 10 to 15 minutes to check all agendas and get students on task with what they need to complete.
I finally check my email and the inbox has blown up again. I have some questions from teachers on accommodations for an upcoming assessment, concerns about one of my students, accepting an IEP meeting.
My phone also rings. It's a parent telling me they are going on a week vacation. Time to add that to my list of preparation.
I conference with my students on progress in their classes. I have individual conferences with two students on their upcoming IEPs. Together we work on their transition questions, examine accommodation data, goals we can track, ways to continue advocating for themselves. Class has ended in the blink of an eye. 
[scroll down to keep reading]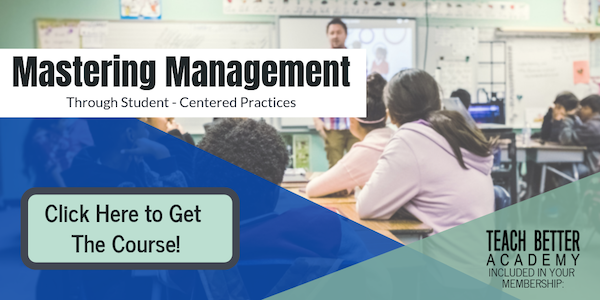 3rd Block Prep
Throughout this year, I have only had a 3 days where I had nothing to work on during my two hour prep. Often, I walk around because I need to get out of my room. I check on a few of my colleagues and see how they are doing. I also spend time making copies or going to my mailbox.
For 45 minutes, two other teachers and I will plan out the next couple days. Planning together makes our co-teaching much more successful. During this time, one of the counselors pulls me out the alert me of an issue with a student.
My phone rang a few times from the office, and another parent or administrator to run a question by me. I have a couple students who come by my room for a check in check out after lunch.
Finally, I can work on my IEPs. I call my process coordinator on a goal question. I received an email that my last two IEPs were finalized and I can print and file those.
All of this goes on my to do list. I have to make sure I keep track of all my conversations and maintain compliance on my dates. I schedule two IEPs, fitting a puzzle piece together with when the IEP team is available and maintaining compliance. Then, it's lunch.
4th Block ELA
I switch gears and teach ELA 9. It's the end of the day and my students are anxious and excited. We go through our activities.
While the students are working on their assignments or silently reading, I have more emails. One email is from a regular classroom teacher stating she cannot make the IEP meeting, as she needs to take her daughter to the dentist. I add a note on my to do list to find a new teacher for the upcoming meeting.
I received another phone call from my process coordinator asking if I can help her with another task. I am teaching the class, interacting with my students, and getting us moving. All this while modifying the material. 
After School
I complete my to-do list for the next day. During passing breaks, I am talking with my colleagues while saying hello to students. I do take restroom breaks and refill my water bottle.
This day is normal, and I love it. I have IEPs coming up and need to track data. Tomorrow I have PLC with the history department and staffing with the SpEd department after school. It will be a much more hectic day, but I know I made a tremendous impact.
I encourage all readers to take a moment and consider the busy schedules we all face, including special education teachers. And before jumping to conclusions or judgement, think of the impact we all have on our students.
Communication, patience, teamwork, compassion, and gratitude will make us better educators.
---
About Dustin Pearson
Dustin is a high school special education instructor at Smithville High School in the Kansas City, Missouri area. He has been teaching for 6 years.
Dustin founded the blog We Are One Team, a publication that brings together educators from around the world. He is a mentor, innovator, advocate, and leader in education.