Self-paced learning can be a great tool.
If you've ever tried to implement mastery or self-paced learning in your classroom, or attempted a long-term project that is student-centered, you've probably tried it (or are still doing it) because, frankly…these things work. Anytime you can make your classroom more student-centered and meet the needs of more students, you're going to increase achievement for your learners.
When self-paced learning goes wrong…
Regardless of how much positive data and research exists for learning that allows students to master material (by the way there is a lot…you can even google it if you want), even the best pedagogy can be destroyed by improper or poor implementation. As I work with schools and districts to implement mastery learning there is a common misconception that can cause this to happen. A lot of educators think that because students are accessing content or curriculum at their own pace that they are also supposed to learn on their own. This couldn't be further from the truth. Self-paced learning is NOT self taught.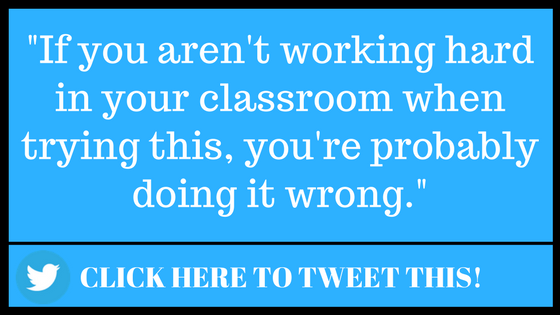 Self-paced learning should mean more teaching, not less.
One of the primary concerns I get from teachers has baffled me for a while. I often get asked, "but when will I teach?" in a student-paced classroom. My response is always the same: "All the time."  Self-paced learning in your classroom should allow you to individually reach the needs of ALL learners and provide constant, consistent feedback as they progress through the curriculum.
As opposed to having a single experience with 20-30 students, a self-paced classroom teacher can curate and experience 20-30 separate, individual interactions with students as they need it. This is truly a powerful aspect of this method. But if not utilized correctly, it can drastically reduce the success of implementation.
As with anything, self-paced learning only works when implemented with fidelity. If you aren't working hard in your classroom when trying this, you're probably doing it wrong. The payoff however, is that your students will learn more, grow academically, and become more confident than ever!
So…if you haven't tried self-paced learning, maybe you should.  And as you start making your classroom more successful and productive, don't forget: self-paced learning DOES NOT mean self-taught learners.