PODCAST GUEST APPLICATION
Thank you for your interest in joining us for an episode of Teach Better Talk!
We're always excited, and honored, when an amazing teacher like yourself wants to share some of their awesomeness with our audience. To ensure we're always providing the highest quality episodes possible, please take a look at some of our simple guidelines, and then complete the quick form below. We'll get back to you as soon as we can.
Thank you!!
~ Rae & Jeff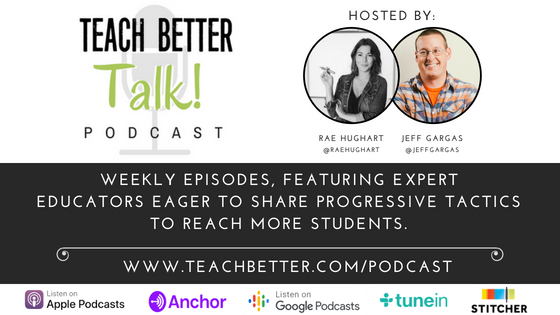 Guidelines
We record on Monday evenings, however, we can usually adjust as needed if your schedule does not work.
Episodes are typically around 30 minutes, but recording can take about 45 minutes.
On average, we're several weeks ahead on recording, so your episode may not release for several weeks after recording.
We aren't interested in just discussing your new book or service/product (however, we can absolutely include it), we want helpful advice and inspiration for educators.
You need to have a decent microphone and headphones to record at a high enough audio quality.
We recommend something like this $20 Logitech headset as a minimum quality microphone
We can't interview everyone, but you don't need to be an "expert" or published author. Your experience is valuable.
No grid was found for: Podcast.